About Greenpark Nursing Home
Greenpark Nursing Home was established by Brian and Cora McNamara in 1991 and we are still very much a family run business.
We accommodate male and female residents with the following nursing care needs; Dementia, brain injury, psychiatric care, respite care, palliative care and general care. Overnight and weekend break care is also available.
Our Care team is headed up by our owner/Director of Nursing Cora McNamara. She is supported by a committed and caring group of fully qualified nurses, including her son Brían, and experienced Care Assistants who continually enhance their skills through on-going training by FETAC, Skillnets and others. We also have a full-time chef who offers a well balanced and varied nutritious diet from produce sourced locally. Ian McNamara, our Social Care practitioner ensures the social well-being of our residents. Jane McNamara Quinn is responsible for the administration of the Nursing Home and can provide advice to prospective residents on Nursing Home care, fair deal etc.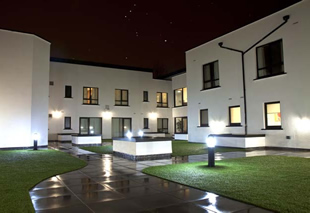 In 2011, the existing nursing home was redeveloped in order to create a purpose built residential care setting that was modern, energy efficient, spacious, and balanced the needs of our residents in terms of their residential accommodation, care & recreational needs and amenity provision. The resulting building is a modern 2 storey over basement structure with a central enclosed courtyard that contains an enclosed garden and amenity space.
Completed in 2011, our state of the art building boasts the latest in modern smart technology for lighting, heating, T.V., broadband and ventilation. In addition, touch-screen technology ensures that all resident's activities of daily living can be recorded by staff, as they happen, ensuring the maximum quality of care tailored to the needs of each individual resident.
Providing quality of life is our number one priority for all residents and we believe this is achieved through the skill mix of our staff and the overall design of our new facility. We foster a sense of community within the nursing home, and our location in the centre of town enables us to be an integral part of the wider community.